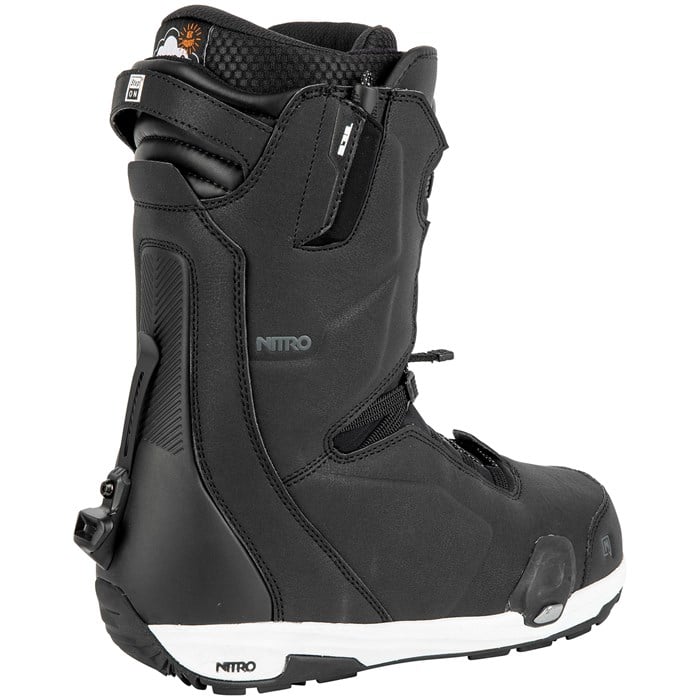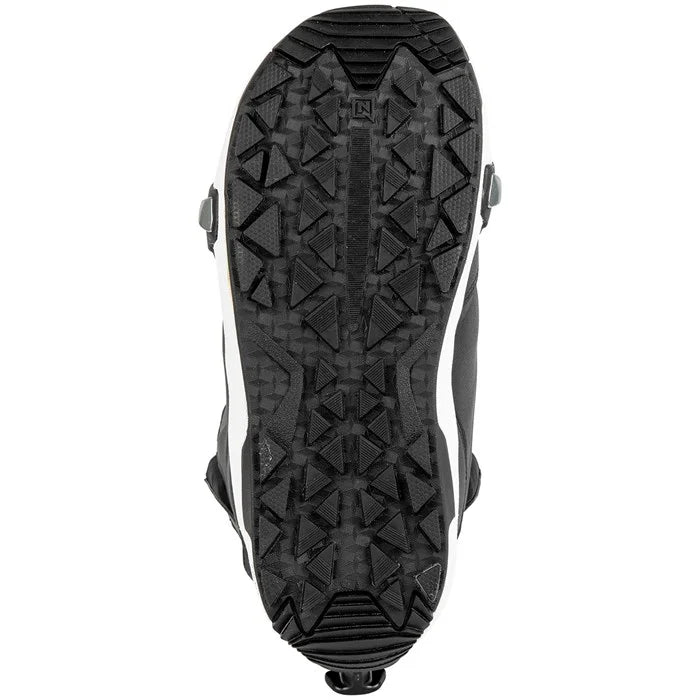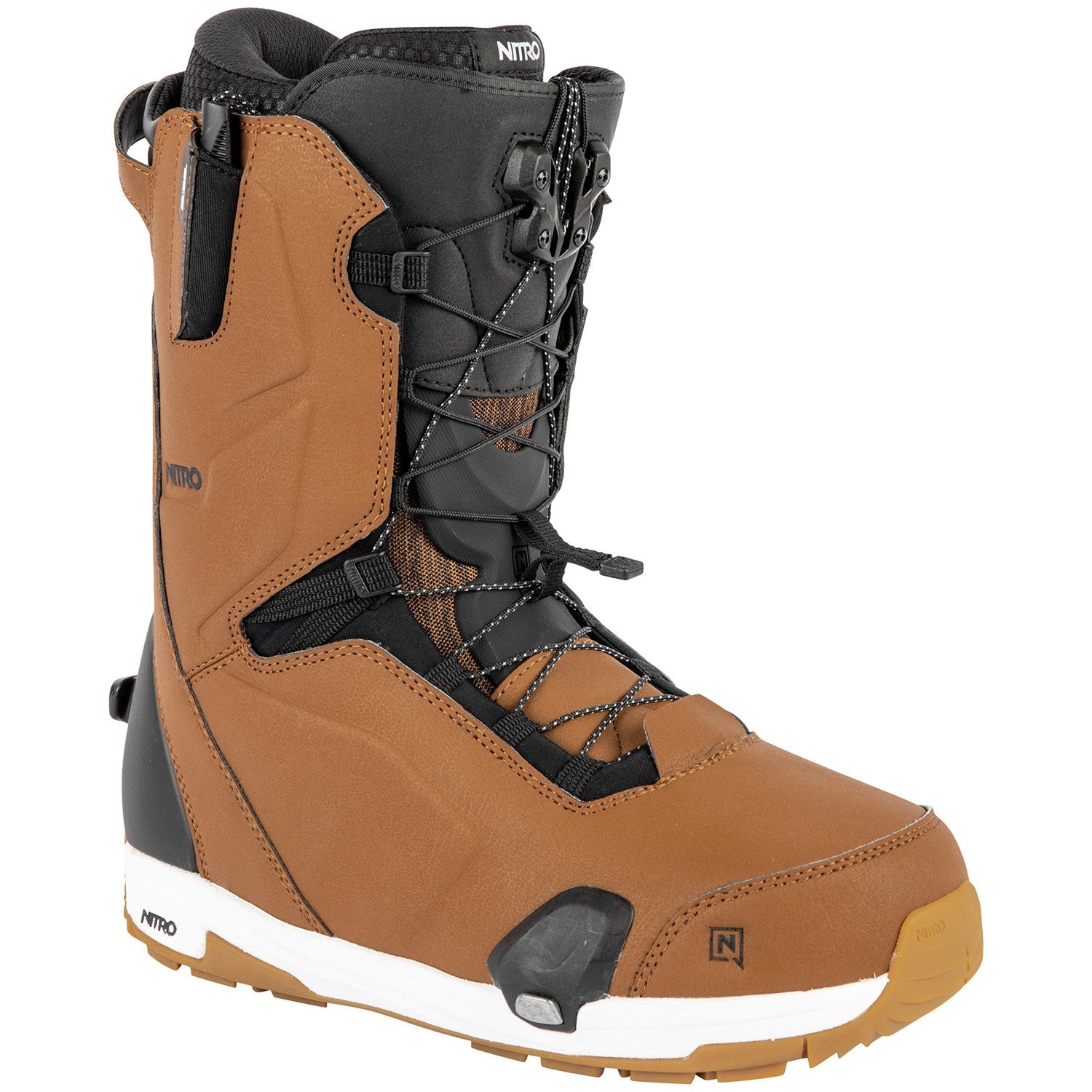 Nitro Profile TLS Step On Boot
$365.46
Regular price
$429.95
off
Description
Since the dawn of snowboarding, we've dreamt of a better, smarter way of attaching ourselves to snowboards than straps, ratchets, and buckles. It goes by the name 'Step On', and it's just as simple as it sounds. The Nitro Profile TLS Step On Snowboard Boots are the first Nitro boots with Step On compatibility. That means you get the superior comfort, fit, and performance you've come to expect from Nitro, with the added convenience and speed of Step On technology. Perfection.
Features
Flex
Flex Rating – 8 (1 Soft - 10 Stiff)
Power Tongue Stiffener – For those looking for adjustable stiffness throughout the day or season, you can use the removable tongue stiffener to change between premium precision or more of a relaxed feel. From the steep and deep to the groomers, you can customize your boot feel perfect for your style.
Fit
Armored Spine – Nitro uses an anatomically-shaped and 3D-molded heel reinforcement to provide even boot flex and long-lasting heel fit.
Flex Link Design – A flexible panel at the ankle between the upper and lower shell ensures an even-flexing, responsive boot without bulk.
Internal Ankle Support – An anatomically shaped molded plate distributes lace pressure over the instep and top ankle area. Resulting in more comfort and a better, more precise fit.
Liner
Cloud 9 Liner – Ultra-lightweight pre-molded Thermacell material creates a straight out of the box fit with unstoppable comfort. Nitro's signature latex heel pads provide lifetime heel fit, while the clutch tongue makes boot entry and exit easier.
ILS Liner Lacing – The ILS system uses a lacing harness to snugly wrap around the liner and secure it in the shell for a precise fit. Engineered ILS laces provide less friction and have a Dyneema® core for added strength.
RE/LACE Liner Locker – From the innovators at Nitro R&D comes the RE/LACE liner locker, providing easy adjustment of your inner boot lacing without having to untie your boot.
Lacing System
TLS Twin Lacing System – Nitro leading the pack with the TLS lacing system: Easy lace engagement and release, combined with the low abrasion of Dyneema® laces are the key factors of this highly reliable zonal lacing system. At the same time, the TLS features compact size and low weight while maintaining reliability.
Bail Out System – Designed to make unlacing the TLS system even easier. This pull tab placed in the middle of the TLS lacing system on the outside of the boot allows for effortless unlacing and record breaking speeds for taking your boots off.
Solo Laceglider – A redesigned and precision-molded low-friction plastic insert laceglider, which is positioned on the top sections regular lace loop of selected models. It drastically reduces the overall lace friction and makes tying up your TLS system easier than ever.
45˚ Laceglider – This precision-molded low friction plastic insert is positioned at 45˚ in the ankle area, reducing lace friction and making it even easier to tie up your laces.
Footbed
Dual Density Ortholite® Footbed – The world's leading supplier of open-cell foam insole technology provides a dual density footbed for support and comfort with an anti-microbial, moisture-wicking technology for drier, less odorous experience.
EVA Midsole – Used on all boots with rubber outsoles, the EVA midsole reduces the overall weight and provides cushioning and thermal insulation.
Sole
Step On® Rubber Sole – A highly effective traction pattern, combined with an abrasion-resistant high-grip rubber compound provides additional sole durability and a perfect grip, no matter if you're hiking up the park or down the stairs to the bathroom...
Additional Features
Therminator Shield – This thermal layer between sole and liner will reflect your body heat and keep your feet warm all day.
Nitro Profile TLS Step On Boot
$365.46
Regular price
$429.95