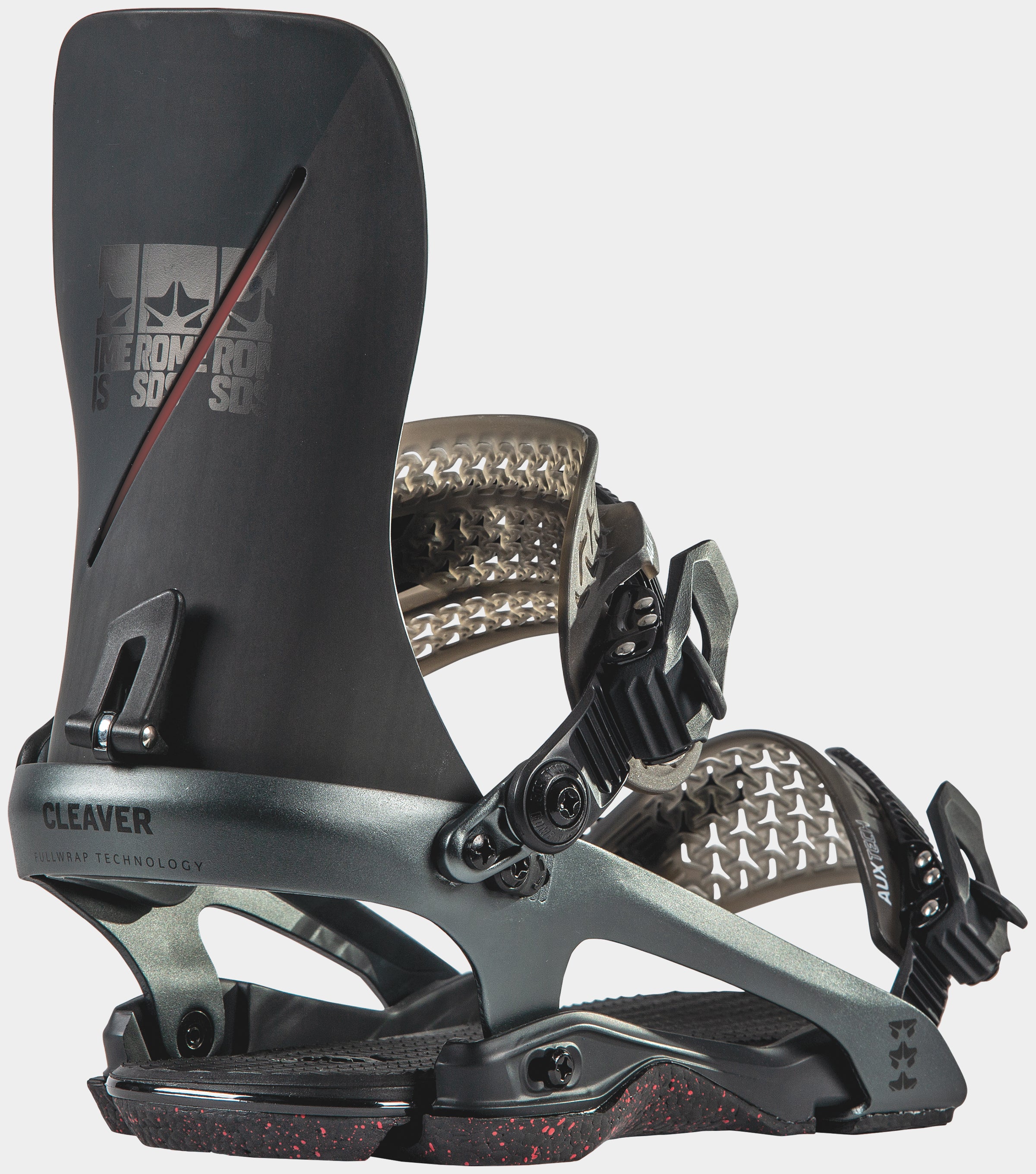 Rome Cleaver Bindings - Snowboarding 2023
$359.96
Regular price
$449.95
off
Description
The Cleaver is a powerful carbon filled brute of a binding, designed for taking speed, sending it deep and lightning-fast edge-to-edge board control. Built on our burly FullWrap platform for maximum power transfer, a carbon composite highback and baseplate, the Cleaver is also fully loaded with our AuxTech® strap package. With next level adjustability and board feel thanks to PivotMount Max and DuraCush™ SubBase pads, the Cleaver is the go-to for Ståle Sandbech and any rider who wants high octane performance.
Product Details
FULLWRAP
Redesigned, recalibrated and reenergized, our FullWrap platform is pure power and maximum energy transfer. The all-new FullWrap platform is a sturdy, bombproof chassis that loves to send it.
New for this season, our bindings feature FastEntry Technology for super quick and easy entry into the binding. The pre-curved ladder on the ankle and toe straps are designed to pop open and help keep the straps out of your way while getting your boot into the binding. Strap in faster and easier thanks to FastEntry!
New for this season, our BombProof Buckles are a one-piece forged aluminum construction for better grip and durability. Built with wider stance teeth area for more engagement, this makes for easier ratcheting and increased protection from wear and tear to your ladder straps.
PIVOTMOUNT MAX
A Rome exclusive binding innovation, PivotMounts are small adjustable pieces that allow riders to move the position of their ankle straps on their boots. The higher up on your boot the ankle strap sits, the more power and turn initiation. The lower the strap goes, the more surfy and tweakable your riding will be.

PivotMount Max provides 8 different strap options per side of the ankle strap, 64 configurations total.
HIGHBACK ROTATION
Designed so riders can adjust their highbacks to mirror the angle of their heelside edge for maximum power transfer.
HIGHBACK CANTING
Built so that riders can adjust the angle of their highback to mirror the angle of their lower leg for increased connection and stability.
ADJUSTABLE BASEPLATE
Created to help fit a wider range of boot models and sizes.
Specs
Size Chart
| | | | | | | | | | | | | | | | | | | |
| --- | --- | --- | --- | --- | --- | --- | --- | --- | --- | --- | --- | --- | --- | --- | --- | --- | --- | --- |
| US Men | 5 | 5.5 | 6 | 6.5 | 7 | 7.5 | 8 | 8.5 | 9 | 9.5 | 10 | 10.5 | 11 | 11.5 | 12 | 12.5 | 13 | 14 |
| US Women | 6.5 | 7 | 7.5 | 8 | 8.5 | 9 | 9.5 | 10 | 10.5 | 11 | 11.5 | 12 | 12.5 | 13 | 13.5 | 14 | 14.5 | 15.5 |
| EU | 36.5 | 37 | 38 | 38.5 | 39 | 40 | 40.5 | 41 | 42 | 42.5 | 43 | 44 | 44.5 | 45 | 45.5 | 46 | 47 | 48.5 |
| CM | 23 | 23.5 | 24 | 24.5 | 25 | 25.5 | 26 | 26.5 | 27 | 27.5 | 28 | 28.5 | 29 | 29.5 | 30 | 30.5 | 31 | 32 |
| | --- | --- | S | --- | --- | * | * | | | | | | | | | | | |
| | | | | | --- | --- | --- | M/L | --- | --- | --- | * | * | | | | | |
| | | | | | | | | | | --- | --- | --- | --- | L/XL | --- | --- | * | * |
Rome Cleaver Bindings - Snowboarding 2023
$359.96
Regular price
$449.95