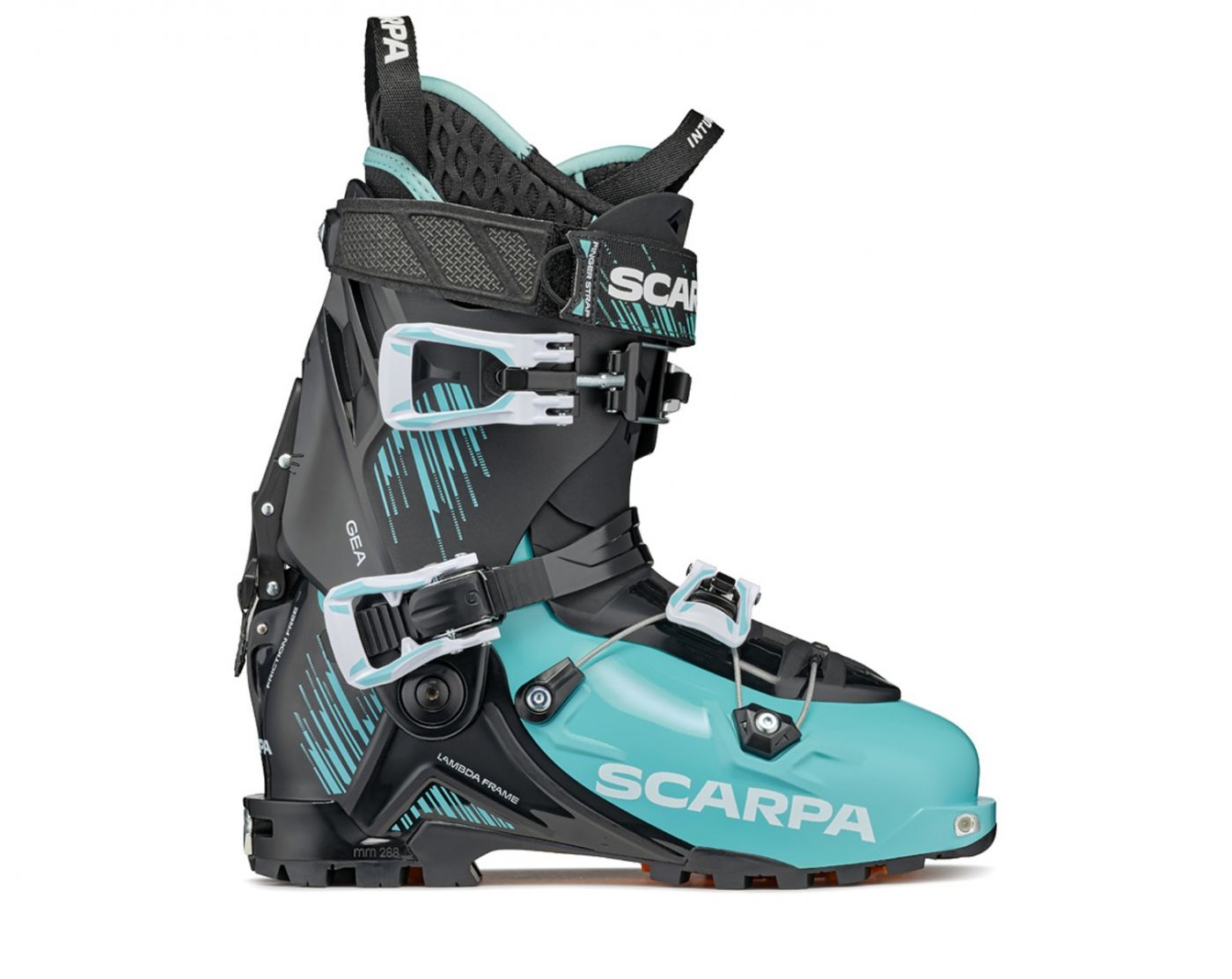 Scarpa Gea W's Touring Boot
Description
The new Gea is our classic women's specific AT boot that redefined backcountry performance. Lightweight, warm, and versatile, this model is suitable for skiers of all levels and is ideal for someone looking for a boot that skis as well as it tours. The Gea utilizes Pebax Rnew: a sustainable, plant-based material which is planet-friendly - in both the Lambda Frame shell and Thor cuff while still providing high torsional rigidity, air ventilation, and 60-degree range of motion. The HRS strap keeps your heel planted where it should be to increase performance and comfort on the way up and down while the lower Wave Closure system provides the same security as a 2-buckle system at a fraction of the weight. The glove-friendly Finger Strap features RECCO® for increased avalanche searchability. The Gea is a reliable, intuitive and comfortable alpine touring boot that can handle any type of mountain terrain and winter adventure.
Dual-density Pebax® Rnew Lambda Frame shell delivers on uphill and downhill performance
Pebax® Rnew Thor Cuff
Speedlock XT Ski/Walk mechanism is friction free and rock solid
HRS Strap keeps your heel locked into place
Intuition® liner is thermoformable and guarantees a warm, precise, comfortable fit
Features
PEBAX® RNEW® SHELL AND CUFF
Pebax® Rnew® materials are premium bio-based thermoplastic elastomers (TPE) made from the oil of the castor plant. They offer a unique combination of high performance properties: sustained flexibility at low temperature, high cold impact resistance, and outstanding energy return. These elastomers are typically 20% lighter than commonly used materials. In comparison to the Pebax® material, Pebax® Rnew® elastomers combines a bio-sourced polyamide 11 rigid block (PA11) with a hydrophobic polyether soft chain. Bridging the gap between thermoplastics and rubbers, Pebax® Rnew® materials offer a sustainable solution for a wide range of high performance applications in sport markets.
WAVE CLOSURE SYSTEM
The Wave closure system, made exclusively for SCARPA®, delivers two buckle closure strength security without adding extra weight
Scarpa Gea W's Touring Boot