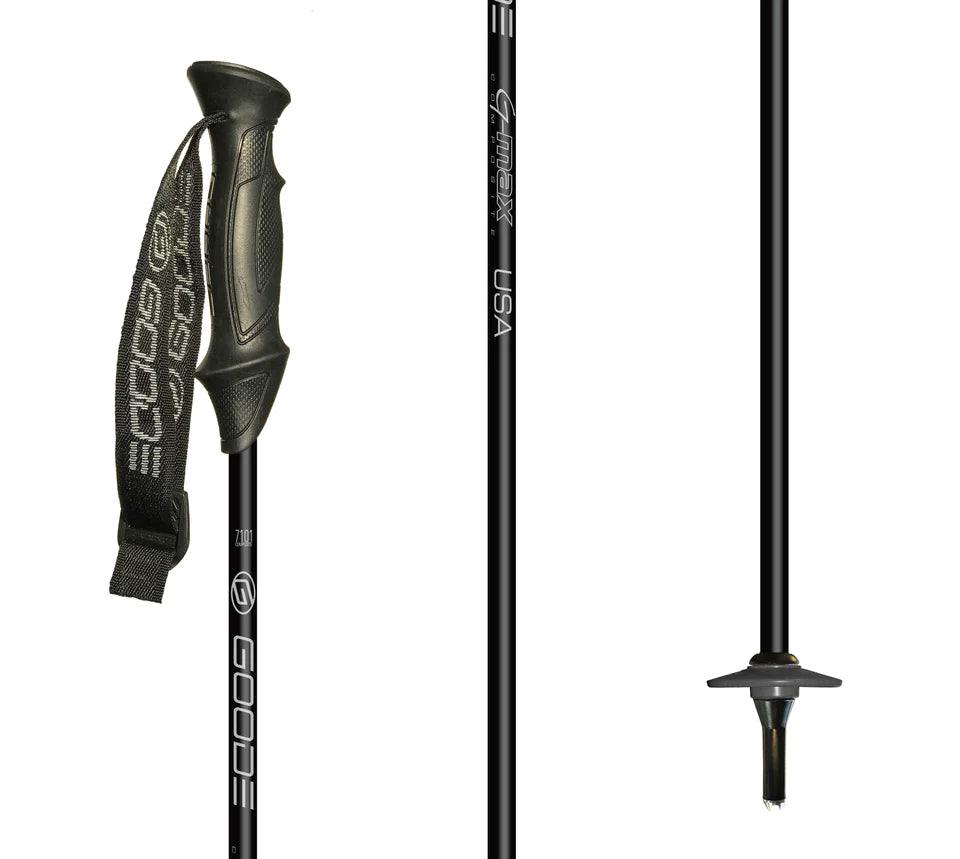 Goode G-Max Classic Pole - Skiing
Description
Product Description
Goode G-Max Plus Ski Poles
Technology:
Lighter-Stronger-Aerodynamic:  Our Patented pole design features "pencil" shafts that are 12.7 mm in diameter for better balance and feel.  The shaft is the same diameter at the top and bottom.  Carbon composite poles are up to 6 times stronger than alloy poles, about 30% lighter, don't bend, are more durable, and have an excellent feel and balance.  Ergonomic grips make these ski poles

 

easy to hold and use in all temperatures and conditions.
Comfortable, Balanced Grips, Releasable Straps: Ergonomically designed grips are comfortable, perfectly balanced, are easy to hold, and help deliver ideal swing weight.  Our patented Inter-Loc™ hook system attaches our straps and gloves to the pole more precisely than traditional straps.  This creates the preferred Swing Angle™ putting more energy and control in your hand.  Our Inter-Loc™ strap system allows the strap to release from the pole if enough force is applied - potential protection if a pole gets hung on a branch or twig while skiing in the trees.
Firm-Flexible-Shock Absorbing: Our firm, flexible shafts take advantage of the natural shock absorption properties of carbon.  Lightweight, firm, performance, but less "Kick back" for better balance, and they're easier on hands, wrists, elbows and shoulders.
*Sold as a pair
Colors: Classic Silver, Classic Blue, Summit Red, Summit Silver, Summit Blue, & Summit White w/Silver & Black, Summit Pink. G-Max Plus: Black, White, Red, Green, & Flo Yellow
Shaft: Patented Composite Fiber  
Diameter: 12.7mm 
Style: Pencil™ (No Taper) 
Shock Absorption: Highest 
Grip Style: T-Uni 
Wrist strap: Woven Nylon/Buckle 
Basket Styles: Disc
Weight: 650 grams/pair 
Swing Weight: Medium 
Goode G-Max Classic Pole - Skiing